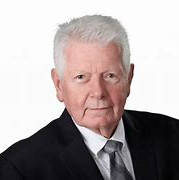 Stephen D. Plumb
Chairman, Treasurer & CEO
Steve Plumb is Chairman and Chief Executive Officer of Pershing Resources Company Inc. He also serves as Treasurer. Mr. Plumb is and has been responsible for the day to day functioning of the Company and its finances for the past 15 years. He has been an investor in the Company and its predecessor companies since 1997 and served as a director of MG Natural Resources from 1998 to 2001 He then re-joined the Board of Directors in 2004 and was named Chief Financial Officer. He was named CEO in 2014 t and, has been involved with the Company and its activities for nearly 20 years.
Mr. Plumb has been in the field of public accounting for the last 40 years, first as a sole proprietor and then as a principal in a large Lansing Michigan firm. He has been involved with taxes and consulting to all types of businesses throughout his career. Mr. Plumb is a member of the American Institute of Certified Public Accountants, Michigan Association of Public Accountants, and is a member of the State Bar of Michigan.
Joel Adams III
Director, Corporate Secretary & COO
Joel Adams is a Director and Corporate Secretary of Pershing Resources. He is also the Chief Operating Officer of the Company. Mr. Adams is responsible for day to day corporate affairs and overall operations of the Company in conjunction with Mr. Plumb's role and as Treasurer and CEO. He is primarily focused on logistics, strategic planning and, procuring the necessary capital for the next phase of the company's development. Mr. Adams has held sales, management and, consulting positions in the fields of fixed income trading, and financial technology over the past 30 years which, included 14 years as a licensed securities professional. Over the course of his career, Mr. Adams has built a strong knowledge base and understanding of public finance, securities regulations and, issuer compliance matters.
Mr. Adams is based in New York and Reno and, joined the Company as Head of Strategic Planning in 2014. He is on the Board of Directors and has served as Corporate Secretary since 2014. He has been an investor in Pershing Resources and, its predecessor companies, since 1988 and, served as a director of MG Natural Resources from 1993 to 1994.
Mr. Adams holds a Bachelor of Arts degree in Political Science from the University of California at Santa Barbara.
Neil D. Novak, P Geo, FGAC
Director, Director of Exploration
Mr. Novak (Cambridge, Ontario) is a geologist with 4 decades of experience in the junior resource and mining sector in the role of consultant and senior officer for publicly listed junior resource companies. Since graduating from University of Waterloo in 1977, his career as an exploration geologist has covered North and South America, Europe, Africa and Asia. The search for kimberlites in the early 1990's brought Mr. Novak back to Canada where he discovered several kimberlites in Northern Ontario. At the 2010 Prospectors and Developers Convention in Toronto, Mr. Novak, along with four others, was awarded PDAC's Bill Dennis Prospector of the Year Award 2009 for his key role in the discovery the "Ring of Fire" exploration area with its numerous deposits of nickel, copper, zinc and chrome.
Mr. Novak is currently President/CEO/Director of BWR Exploration Inc., a public company on the TSX.V Exchange. He is former President/CEO of Spider Resources Inc. (2005-2010) until the company was taken over in 2010 for an all cash offer of $125 million by Cliffs Natural Resources of Cleveland Ohio. Novak acquired one of the old Spider projects from Cliffs and then launched Black Widow Resources Inc. as a new public company in early 2013 through an IPO, Black Widow changed its name in late 2016 to BWR Exploration Inc..
Mr. Novak is presently a director of one other public company, Cadillac Ventures Inc. and is President of a private family owned consulting business, Nominex Ltd. Mr. Novak is a Professional Geoscientist (P.Geo.) registered with the Association of Professional Geoscientists of Ontario and a Fellow of the Geological Association of Canada (F.G.A.C.).
Maria E. Stan, CPA
Director, Audit Committee Chairperson
Maria Stan is currently a Director at Eventus Advisory Group and provides CFO and Controllership related services to both public and private clients in various industries. Ms. Stan has a long track record of working effectively to build, manage and motivate across industries. She is experienced in financial strategy and controllership, public and private corporate accounting and finance, SEC reporting, and Big Four public accounting. She joined Pershing Resources Company's Board in February of 2019 and presently serves as Chairperson of the Audit Committee. During her tenure at KPMG, Ms. Stan was involved in the decision making processes, strategic planning, and regulatory compliance for companies such as Sirius XM Radio, Omnicom Group, and Burger King Holdings. Ms. Stan then held the position of Controller at the Kaplan Test Prep, a Division of the Graham Holdings Company (NYSE:GHC), prior to joining Eventus Advisory Group. Ms. Stan maintains business interests in Boston, MA and New York City. She is also fluent in Spanish and proficient in Portuguese. She is based in Boston and earned her Bachelor of Science/BS in Accounting from the City University of New York at Brooklyn College.
Ms. Stan had joined the Company's Advisory Board in October of 2018, then providing guidance to the Company's Audit Committee before joining the board.
David J. Jordan
Director
Mr. Jordan has served on our Board since 2014. He is a business owner with 40 plus years in sales management and software development for the insurance business. Having founded two successful analytics software service companies. In 1998 Mr. Jordan founded NetRate Systems a company that supplies premium calculation and policy issuance systems to the property and casualty insurance market. Mr. Jordan served as the President of NetRate Systems, Inc from 1998 until the business was sold in 2018 to Polaris Partners .Mr. Jordan attended Michigan State University and, has been an investor in Company since 1998.
Joseph M. Barton, Esq.
Director
Mr. Barton is a practicing attorney with over twenty years of experience. He has an extensive background in securities law and litigation and has worked numerous high profile cases representing both public companies and investors. Mr. Barton is admitted to practice in all California state courts, the U.S. Court of Appeals for the Ninth Circuit, and the U.S. District Courts for the Northern, Central and Eastern Districts of California. Mr. Barton currently manages his own legal practice focused on estate and trust law in the San Francisco Bay Area.